"'

Metabolic rift' is the concept popularized by environmental sociologist John Bellamy Foster, following Marx and others, to describe the disruption of ecological processes and the tendency to sever the connection between ecological and social realms. Foster attributes the metabolic rift to the intrinsic dynamic of capitalist production, with its private ownership of the means of production, drive for profits, ever-expanding markets, and continuous growth. Marx employed this idea to describe the effects of capitalist agriculture on the degradation of soil fertility. Foster and his co-thinkers have employed the concept in analyses of climate change, biodiversity, agriculture, fisheries, and many other aspects of human interaction with our biosphere." (Friedman, 2018, emphasis added)
"Research suggests that the scale of human population and the current pace of its growth contribute substantially to the loss of biological diversity. Although technological change and unequal consumption inextricably mingle with demographic impacts on the environment, the needs of all human beings—especially for food—imply that projected population growth will undermine protection of the natural world." (Crist, Mora, and Engelman, 2017)
"The first premise of all human history is, of course, the existence of living human individuals. Thus the first fact to be established is the physical organisation of these individuals and their consequent relation to the rest of nature. Of course, we cannot here go either into the actual physical nature of man, or into the natural conditions in which man finds himself – geological, hydrographical, climatic and so on. The writing of history must always set out from these natural bases and their modification in the course of history through the action of men." (Marx and Engels, 1845, emphasis added)
"These communities consist of a variety of microorganisms including eukaryotes, archaea, bacteria and viruses. Bacteria in an average human body number ten times more than human cells, for a total of about 1000 more genes than are present in the human genome. Because of their small size, however, microorganisms make up only about 1 to 3 percent of our body mass (that's 2 to 6 pounds of bacteria in a 200-pound adult)." (

National Institute of Health Human Microbiome Project

, accessed March 17, 2020)
"These microbes are generally not harmful to us, in fact they are essential for maintaining health. For example, they produce some vitamins that we do not have the genes to make, break down our food to extract nutrients we need to survive, teach our immune systems how to recognize dangerous invaders and even produce helpful anti-inflammatory compounds that fight off other disease-causing microbes. An ever-growing number of studies have demonstrated that changes in the composition of our microbiomes correlate with numerous disease states, raising the possibility that manipulation of these communities could be used to treat disease."

(ibid. Emphasis added)
"Some biologists conceive of our microbiota as a hitherto unrecognized organ or organs fulfilling important physiological functions and networking with other organ systems, while many microbial ecologists propose that we are not 'individuals,' but collective organisms comprised of the person (mammal) and its entire microbiome. Many other species are also collective organisms, termed holobionts, tightly bound by evolution ever since the earliest eukaryotic cells arose from fusions of independent prokaryotes (non-nucleated cells, such as bacteria)."

(Friedman, 2018)
"We have seen that the senses and intuitions, the various emotions and faculties, such as love, memory, attention, curiosity, imitation, reason, etc., of which man boasts, may be found in an incipient, or even sometimes in a well-developed condition, in the lower animals. (Darwin, 1871/1981, p. 105)
"In thinking about non-humans, Darwin said, we have always under-estimated the richness of their mental lives. We tend to think of ourselves as mentally complex, while assuming that 'mere animals' lack any very interesting intellectual capacities. But this is incorrect. Non-humans experience not only pleasure and pain, but terror, suspicion, and fear. They sulk. They love their children. They can be kind, jealous, self-complacent, and proud. They know wonder and curiosity. In short, they are much more like us, mentally and emotionally, than we want to admit." (Rachels, 1990: 57)
"… wet markets and exotic food are staples in China, as is now industrial production, juxtaposed alongside each other since economic liberalization post-Mao. Indeed, the two food modes may be integrated by way of land use.
"Expanding industrial production may push increasingly capitalized wild foods deeper into the last of the primary landscape, dredging out a wider variety of potentially protopandemic pathogens. Peri-urban loops of growing extent and population density may increase the interface (and spillover) between wild nonhuman populations and newly urbanized rurality.
"Worldwide, even the wildest subsistence species are being roped into ag value chains: among them ostriches, porcupine, crocodiles, fruit bats, and the palm civet, whose partially digested berries now supply the world's most expensive coffee bean. Some wild species are making it onto forks before they are even scientifically identified, including one new short-nosed dogfish found in a Taiwanese market."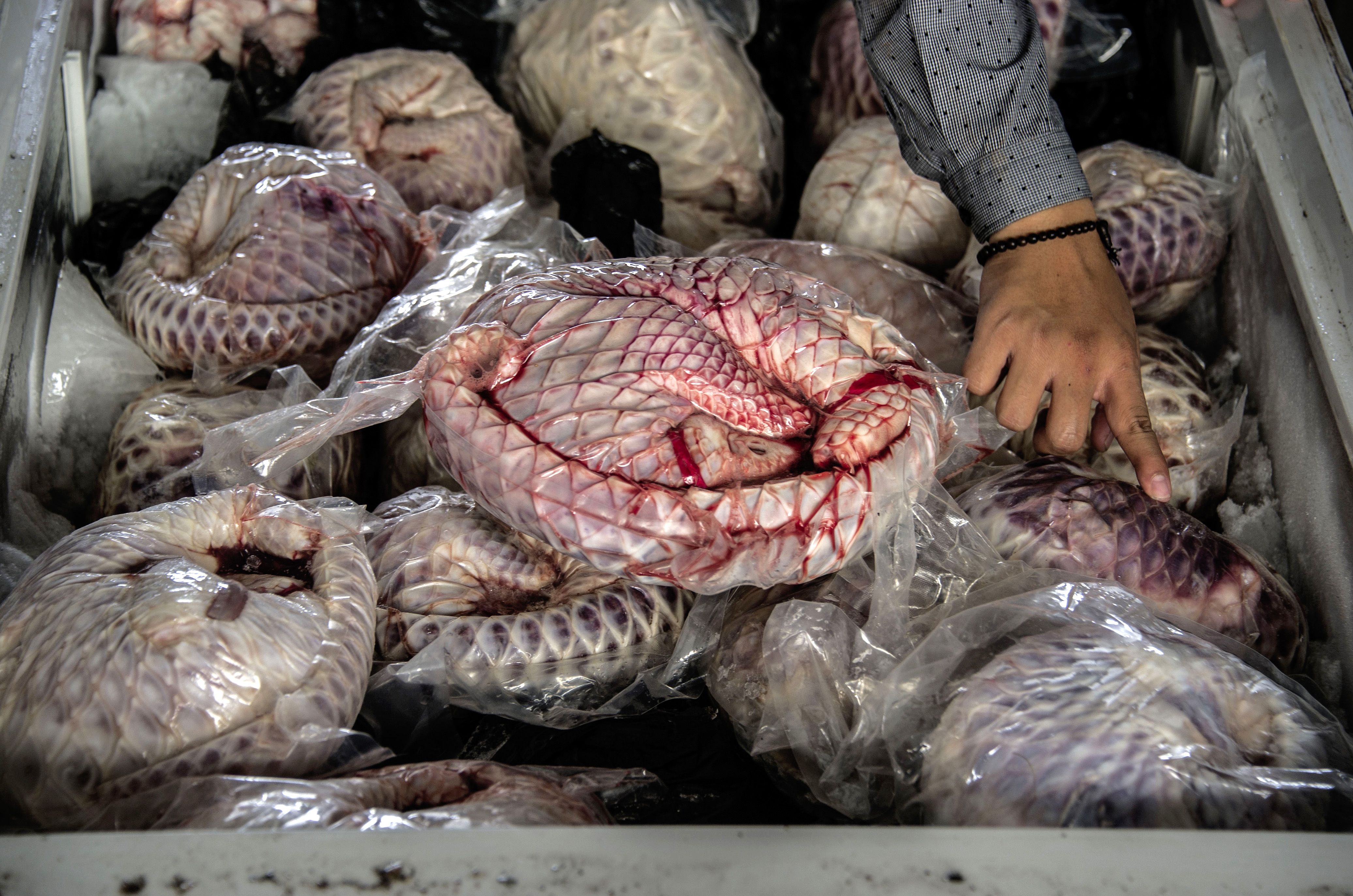 Wildlife meat market in China
"Three interrelated world trends may be exacerbating emerging zoonotic risks: income growth, urbanization, and globalization. (1) Income growth is associated with rising animal protein consumption in developing countries, which increases the conversion of wild lands to livestock production, and hence the probability of zoonotic emergence. (2) Urbanization implies the greater concentration and connectedness of people, which increases the speed at which new infections are spread. (3) Globalization—the closer integration of the world economy—has facilitated pathogen spread among countries through the growth of trade and travel. High-risk areas for the emergence and spread of infectious disease are where these three trends intersect with predisposing socioecological conditions including the presence of wild disease reservoirs, agricultural practices that increase contact between wildlife and livestock, and cultural practices that increase contact between humans, wildlife, and livestock. Such an intersection occurs in China, which has been a 'cradle' of zoonoses from the Black Death to avian influenza and SARS. Disease management in China is thus critical to the mitigation of global zoonotic risks." (Tong, et. al. 2017; numerals inside parentheses are added to emphasize contributing factors)
Live meat market in China
"I've seen

snakes

and the

penises

of bulls or horses — great for men, the theory goes — on offer at restaurants in many cities in southern China.

Bats

, which are thought to be the original source of both the current coronavirus and the SARS virus, are said to be good for restoring eyesight — especially the animals'

granular feces

, called "sands of nocturnal shine" (

夜明砂

).

Gallbladders and bile

harvested from live bears are good for treating jaundice;

tiger bone

is for erections.
"More mundane yet no less popular is the

palm civet

(

果子狸

), a small, wild quadruped suspected of having passed on the SARS virus to humans. When

stewed with snake meat

, it is said to cure insomnia."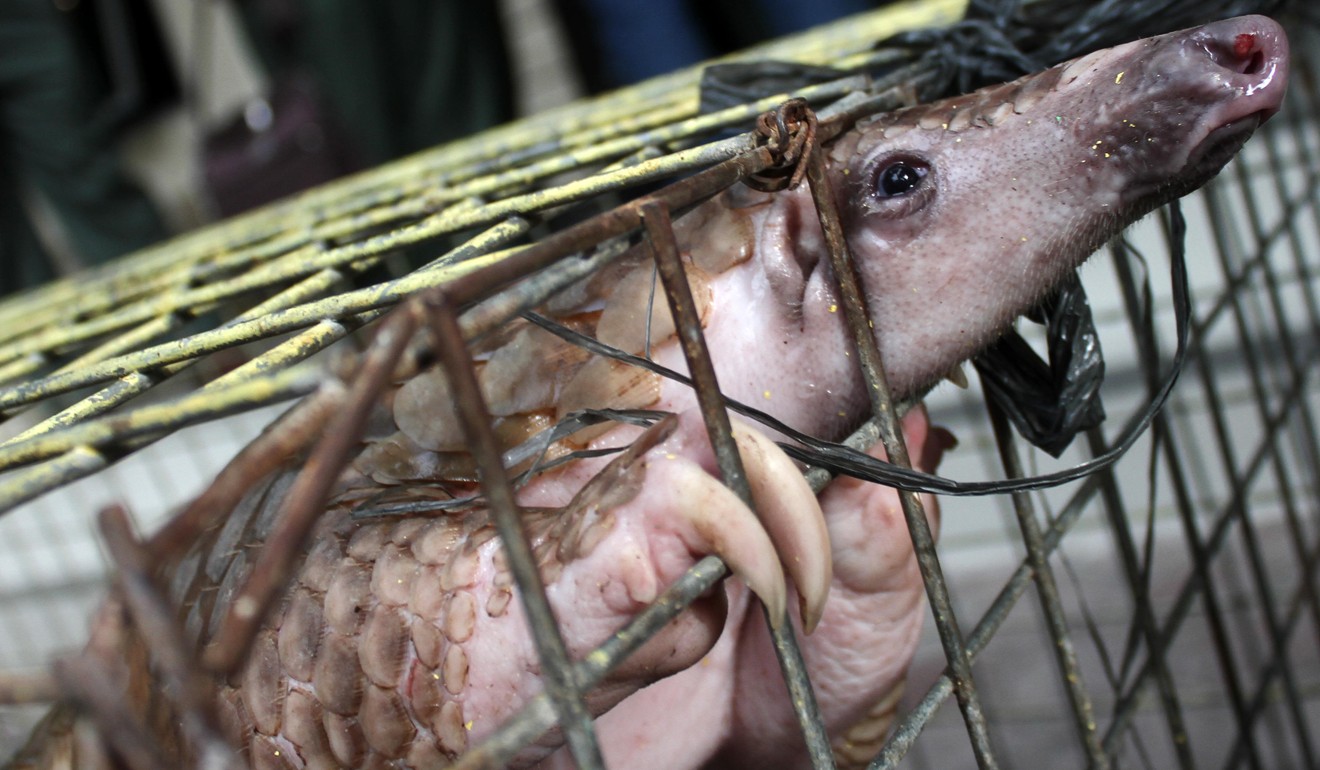 Wildlife meat market in China
"[V]irtually all infectious diseases due to microorganisms especially adapted to Homo sapiens came into existence only in the past ten thousand years, many of them perhaps only in the past five thousand.

They were, in a strong sense, a 'civilizational effect.' These historically novel diseases—cholera, smallpox, mumps, measles, influenza, chicken pox, and perhaps malaria—arose only as a result of the beginning of urbanism and, as we shall see, agriculture."

(Scott, 2017, p. 101)
"The Neolithic was not only an unprecedented gathering of people but, at the same time, a wholly unprecedented gathering of sheep, goats, cattle, pigs, dogs, cats, chicken, ducks, geese. To the degree that they were already 'herd' or 'flock' animals, they would have carried some species-specific pathogens of crowding. assembled for the first time to share a wide range of infective organisms. Estimates vary, but of the fourteen hundred known human pathogenic organisms, between eight hundred and nine hundred are zoonotic diseases, originating in non-human hosts. For most of these pathogens, Homo sapiens is a final 'dead-end' host: humans do not transmit it further to another host." (ibid. p. 103)